The 'Write Stuff' for Young Writers: The Picture Story/Word Story Strategy
Updated on
January 9, 2020
Learn More About
LETRS for Early Childhood Educators
There may be nothing more intimidating than a blank piece of paper, a writing task, and young students. Supporting young writers can be a monumental task for teachers. Ensuring teachers and caregivers understand the phases of writing development and how to support young writers is critical. See the table below from
LETRS
®
for Early Childhood Educators
, for an explanation of the Phases of Literacy Development and Writing Development.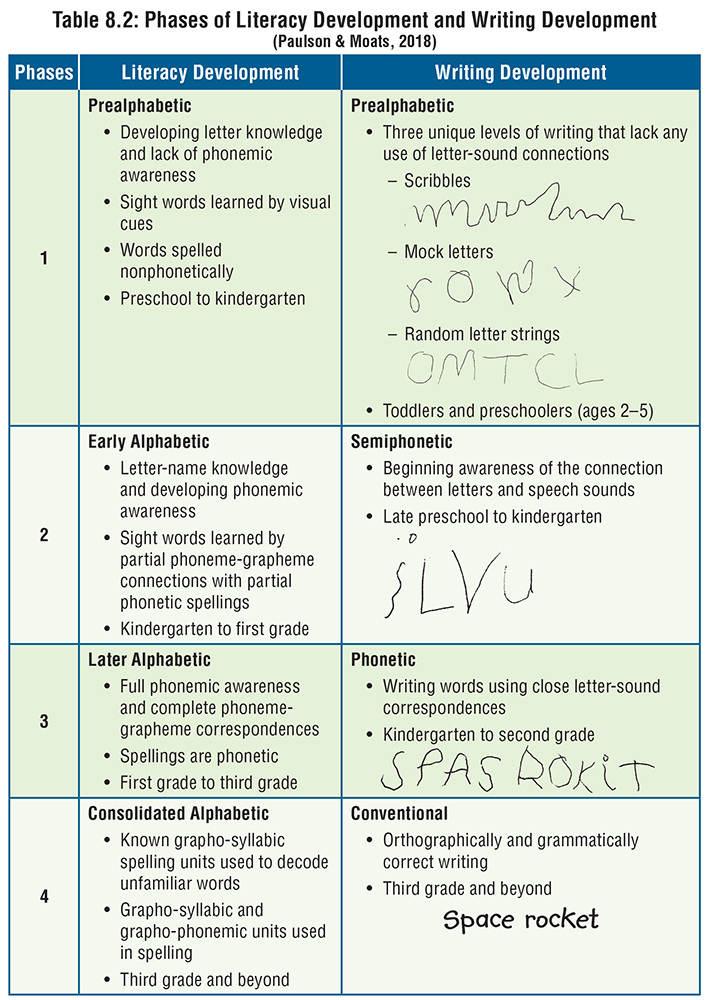 Rather than writing like an adult, children should be encouraged to write at their developmental level. When this happens, children feel more empowered to take risks and experiment with written language.
One strategy that intentionally demonstrates the phases of writing is called Picture Story/Word Story (Paulson, et al. 2001). With this strategy, a teacher begins by collecting a writing sample from students to determine the phases of writing encompassed by the class. Next, the teacher draws a horizontal line in the middle of a piece of paper. The top half of the page will serve as the Picture Story, where the teacher (followed by students) will draw. The bottom half will be the Word Story, where the teacher will model writing related to the picture above. The teacher starts with phonetic phases, including writing the sentence conventionally. Then, the teacher demonstrates each additional stage (phonetic, semiphonetic, random letter strings, letters, and scribbles) to meet students' needs.
Teacher Picture Story/Word Story Example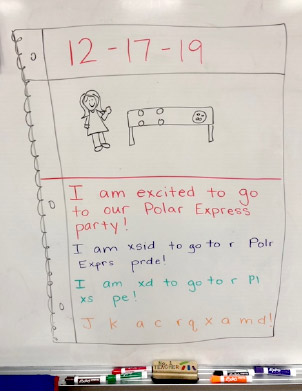 Students' Picture Story/Word Story Examples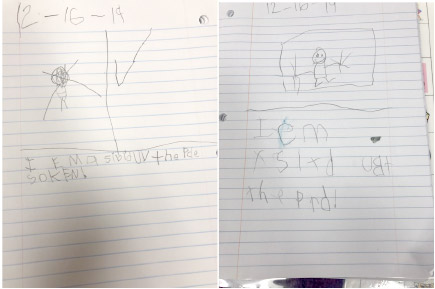 As a 12-year kindergarten teacher, writing always has been a challenge. Helping kindergarten students feel confident enough to put their thoughts on paper is not an easy task. The first time I used the Picture Story/Word Story strategy with my students was eye opening. It was something so simple but so meaningful. I wondered why I had not been using it all these years. When the students were introduced to this strategy, you could see light bulbs go on in their heads. The fact that they had "permission" to use different kinds of writing and still be a writer was so meaningful to them. Suddenly, my struggling students were taking risks and using letters and even symbols or scribbles to make sentences.
My higher-level students were building more complicated sentences. Another exciting development was that we broke the mold of starting all of our sentences the same way. In the past, my students were experts in the "I like ____" sentences. They could write those sentences perfectly. It was very difficult to get them out of that habit. With the Picture Story/Word Story strategy, they now are responding to something meaningful. It can be a book we are reading or a topic we have been discussing in class. I am able to give them a sentence frame that scaffolds their messages and the outcomes are more sophisticated products. We use the strategy daily during our journal time and frequently during our literacy time. Now, my students have a sensitivity to how many sounds are in a word, how to stretch sounds, and how many words are in a sentence. I am thrilled to say that after using the Picture Story/Word Story strategy, at the midyear mark, my class is much farther along in writing skills than ever before.