The Artist Behind #IAmMore: An Interview with Julian Gaines
Updated on
October 9, 2018
PART ONE of TWO
Julian Gaines is a globally recognized artist whose work is unique, inspiring, and embodies what it is to be MORE. We recently caught up with Ju, as he is known to many, to talk creativity, working with Nike, and finding inspiration from the people in his youth who saw his potential and helped propel him to a level of success only he knew he had the capability to achieve. Because of his work and belief in the potential in every child, Voyager Sopris Learning® commissioned Julian to create our signature #IAmMore graphics, which have been focal points of the movement and campaign designed to give teachers and students a voice and share their stories of what makes them more than meets the eye—or more than the challenges for which they are labeled.
Here is Part One of our inspiring conversation with Julian.
VSL: Tell our readers who you are, and how you describe yourself.
Julian: My name is Julian Victor LaMarr Gaines. I go by Ju or Juwop (Ju Working on Projects). I am a 28-year-old multifaceted freelance fine artist, designer, and consultant from Chicago's Southeast side. Simply put, I am a former collegiate athlete who studied drawing, painting, and coaching in college. I could have easily been seen as a football player and pigeonholed as such, but because key people in my life encouraged me to be who I am, I followed my passion: Art. I am infatuated with making stuff look good; juxtaposing art and athletics as well as the ideology of using creativity, experimentation, and great design to inspire the people/youth around me. I'm a creative problem solver; I'm working on projects with Nike at the moment.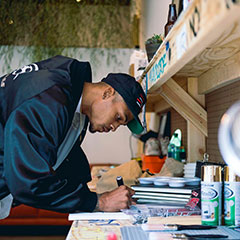 VSL: Tell us what is it about the #IAmMore movement that spoke to you, and why did you want to get involved?
Julian: When I heard about the #IAmMore movement, I was really inspired by just the idea of getting kids to read and just to get behind something so worthwhile. Initially, my role was to use my art to garner the attention of the kids and get them to want to share what makes them more and for them to be inspired by my story; I loved the idea of helping them want to get involved in their school community and a movement that was bigger than just their immediate surroundings. I thought that was phenomenal. I felt like the message behind #IAmMore meshed well with my own principles and being more than just an athlete. So, I thought it just tapped into a lot of facets for me as well and it was just a no brainer. I was like, "Cool, let's create."
VSL: What was your favorite subject in school? And was there a particular teacher that gave you confidence? And how?
Julian: OK, so I had two favorite subjects in school: Language Arts and art class. My mom is a big reader and I wasn't allowed to watch TV during the week, but on the weekends, I could watch TV. I could never watch TV longer than an hour, but I could read as long as I liked. So, reading really became my favorite subject and then art, which was my passion. When I graduated high school, I knew that I wanted to continue to pursue art. I started studying graphic design, but then midway, after meeting one of my favorite designers in person, I ended up changing my major from graphic design to drawing and painting. So yeah, in school it was reading—because of my mom's influence—and art, because I loved to create and I had ways to express myself creatively in art class and because my mom encouraged me to pursue what I loved—my art.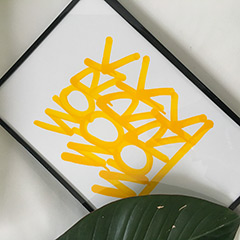 VSL: What other influences made you feel encouraged to be more than what others might see you as?
Julian: I was fortunate to meet the artist Kadir Nelson after a talk. I was watching him do a presentation and he was saying how he makes so much money off a painting and I was like, "Man, I want to do what he does." So, I waited to the end of the talk and I went up to him, and I was like, "I know I'm really good at art, but I've been told I'd only make money if I study graphic design in college, but really I hate studying graphic design. I don't really like it. I want to paint." He told me, "If you're good at anything, you'll make money." I took that back to campus and I changed my major that fall and I haven't looked back since.
As a wide receiver in high school, you garnered a lot of attention for your athletic ability. What did that teach you about who you are today? What lessons did you take from football to art?
Julian: Well-organized sports is extremely important. I think it's just a great balance and understanding like how the social dynamics of life and how to deal with people and adversity and just be disciplined. You don't have to go to the pros, just organization and having to work on a team is just a great life skill. Athletics played into my art because as an athlete I'm naturally competitive. I'm extremely competitive. There are not many athletes who are successful artists. My premise, even when I was in college, has always been to show the world that I was one of the greatest artists of my generation. I thought initially that it was going to be football, playing for the Bears, that was really going to propel my art career. So, my goal was to really go and play for the Bears for a few years, save money, and then just work on my art full time. God had a bigger plan than that for me; when I tore my shoulder, my art started to get better. I tore my left labrum twice, consecutively, and while I was out of football healing, my art started to improve. I started selling paintings to my team, to my classmates.
At that point, I just shifted gears and I was like, "You know, instead of trying to be a professional athlete, I'll channel my competitive nature into trying to be a professional artist." Where a lot of artists aren't competitive, that's where I thrive. I want to be the best and I treat everything like it's a game, like it's red zone and I need to score the touchdown. I know how that if you work out every day, it's inevitable, you're going to put on muscle mass. You're going to get stronger. It's just like, if I compete and I work and I try to be the best and people will see that I am more than just an athlete. I'm an artist. I can transfer that energy that it would take for me to be the best athlete into being the best artist and the inevitable will happen.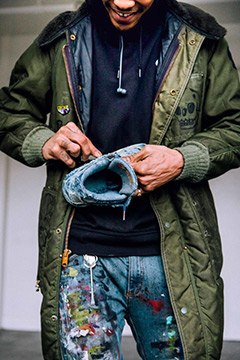 VSL: If you could talk to your middle school teachers today about who you were then and what you've accomplished, what would you say to your teachers?
Julian: : I had one teacher we used to call Miss J. She'd be so happy just to see the ideas that we would manifest. Today, I would tell her, like, "Thanks for the affirmation and telling me my ideas were cool," you know? I think that, sometimes, when people want to buy art from kids, or people, they're like, "You know, I don't really want to buy this. I don't know." I think people are missing out on those situations, because, outside of it being like you giving away $300, $400, $500, what you're giving that person is like a boost in their own personal creative field. And that's the same thing that happens when you put kids' artwork in the classroom or you put up your kids' artwork in the house. It's that boost of affirmation to keep going. I'm really, really, really appreciative of my teachers and professors. I even had a college professor who told me that my handwriting was really cool and to keep writing. So, it's like, I thank the teachers. I'd tell them to keep affirming. Yeah, that's what I would tell my teachers.
VSL: With #IAmMore, we want people to see beyond what meets the eye, you know, don't judge a book by its cover. Let's stop categorizing people (especially students) by their challenges or their characteristics. So, answer this: "I Am More than…"Julian: I'm 6'6" so people always assume I'm a basketball player. I am more than an athlete or more than a former athlete. That's what I would say because that's what people see, that I'm tall. I am more than a former athlete. I am more than a shoe designer. I am more than an artist. I'm a devoted son.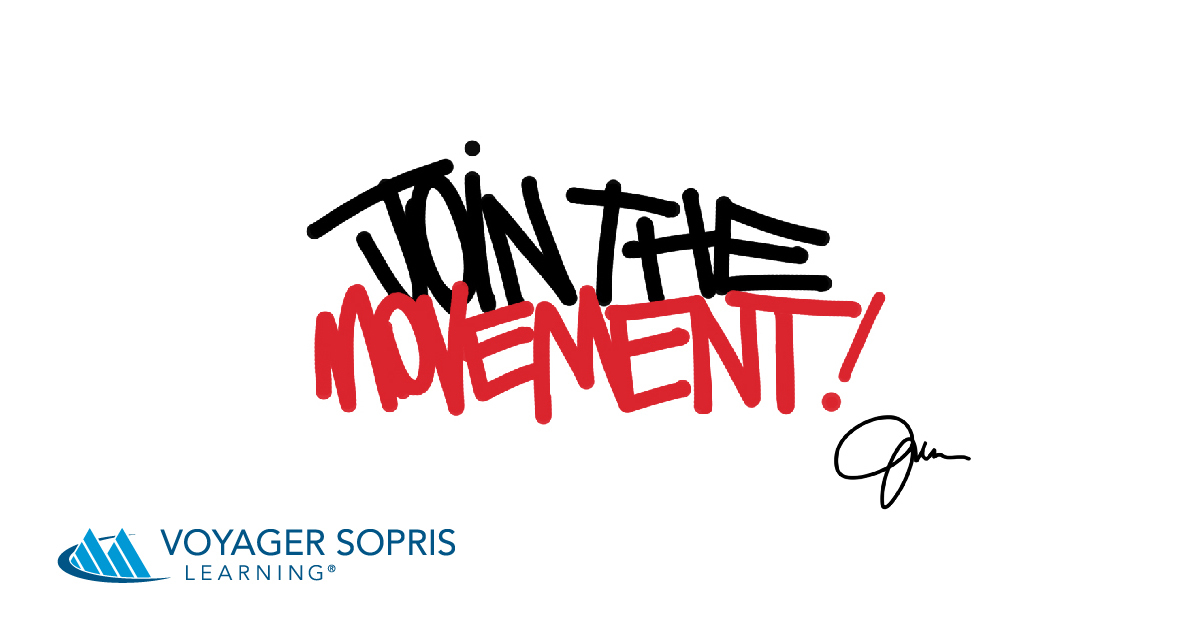 What makes you MORE? What do you see in your students beyond the obvious? Visit weareteachers.com/Iammore and join the movement. You can also watch this #IAmMore webinar for inspiration.
Join us here on October 25th for Part Two of the Julian Gaines interview.