Ten Things You Need to Know About ESSER Funding For the Upcoming School Year
Following the COVID-19 pandemic, educators are all too familiar with the fact that there has been clear learning loss among students across the nation. Between remote learning and the myriad of other difficulties and roadblocks the pandemic presented to students and teachers alike, learning gaps have widened like never before.
As a measure to help address these learning gaps and what has become known as the "COVID slide" Congress has set aside billions of dollars, known as Elementary and Secondary School Emergency Relief (ESSER) and Governor's Emergency Education Relief (GEER) funds, for elementary and secondary schools to address the impacts that COVID-19 has had on our education system.
With ESSER deadlines quickly approaching, we've pulled together the answers you've been looking for regarding funding for the upcoming school year.
First off, who's eligible for ESSER funds?
All public, charter, and nonprofit K–12 schools are eligible to receive ESSER funding. As stated in the legislation, a for-profit, non-public school is not eligible to receive equitable services for its students and teachers under the CARES Act programs.

How long is each ESSER fund available for use?
Each ESSER fund has its own time period of when it needs to be used by states, districts, and schools. They are:
ESSER I: September 30, 2022
ESSER II: September 30, 2023
ESSER III: September 30, 2024


How much funding is available?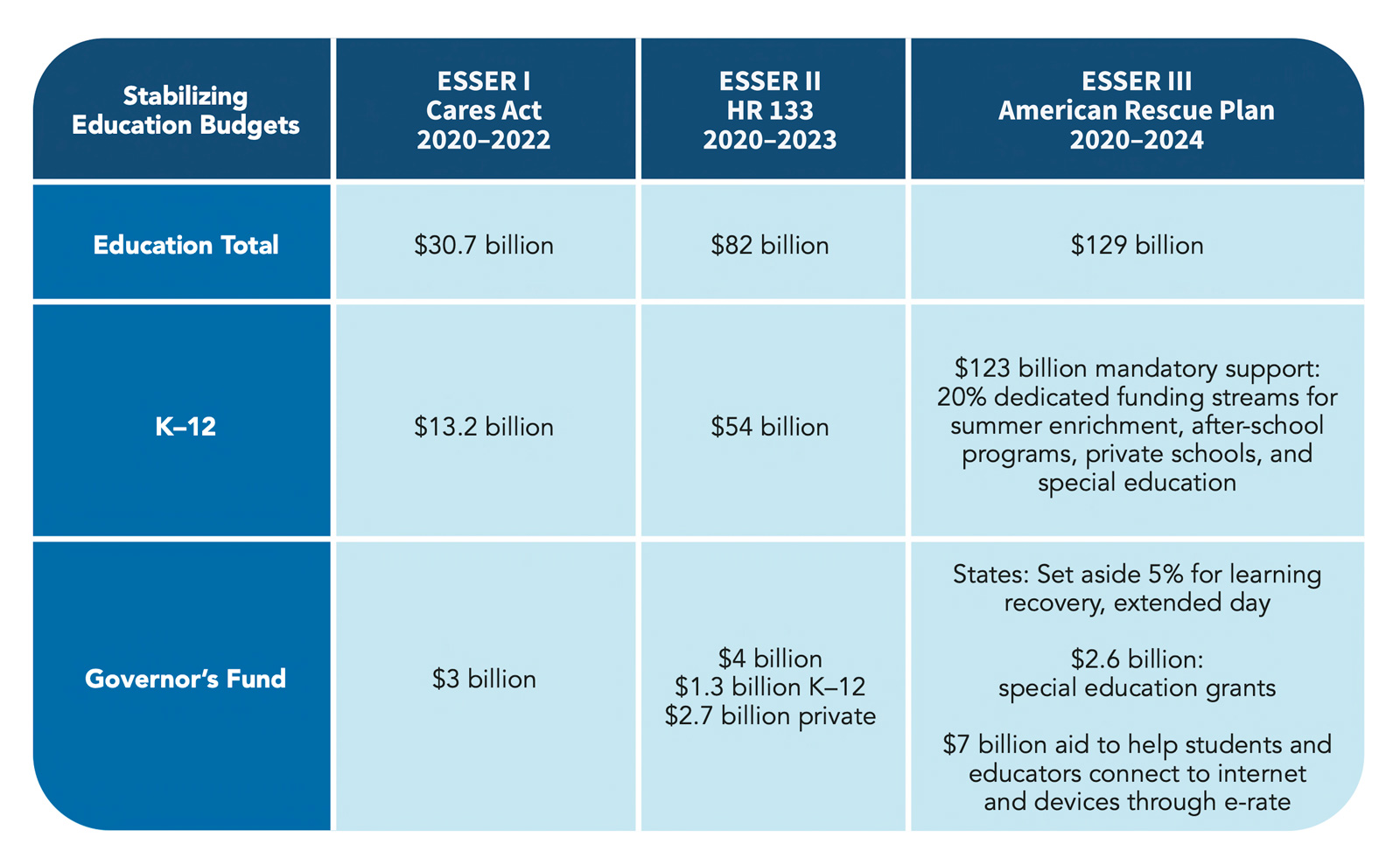 What can the funds be used for?
All three acts (CARES, HR133, CRRSA) provide education funding in two programs: ESSER and GEER. Each round of funding legislation has designated allowable uses, but the scope has expanded with each round.
The original 12 allowable uses in ESSER I were expanded to 15 in ESSER II. The U.S. Department of Education advises that ESSER II funds expand even further to 21 allowable uses, including some of the following:
Investing in resources to implement the Centers for Disease Control and Prevention's K–12 operational strategy for in-person learning to keep educators, staff, and students safe.
Avoiding devastating layoffs and hiring additional educators to address learning loss, providing support to students and existing staff, and providing sufficient staffing to facilitate social distancing.
Funding crucial summer, afterschool, and other extended-learning and enrichment programs.
Funding for Wi-Fi hotspots and devices for students without connectivity for remote learning and supporting educators in the effective use of technology.
Implementing strategies to meet the social, emotional, mental health, and academic needs of students hit hardest by the pandemic, including through evidence-based interventions and programs.


You mention GEER funds—is that different from ESSER funding?
They are almost the same. The GEER Fund is a federal grant under the CARES Act for governors to support and assist local education agencies (LEAs), higher education institutions, and other educational entities with emergency assistance due to COVID-19. GEER funding is only available to local education agencies of eight or more teachers, but not including those LEAs that are charter schools or Special Act School Districts.
What is the biggest difference between ESSER I, ESSER II, and ESSER III funds?
The "allowable activities" expanded with ESSER II, and then again with ESSER III. Also, ESSER III contains two planning requirements:
A 20 percent set aside for funding to be utilized for learning loss-related activities through implementing evidence-based interventions (summer learning, extended day, or after-school programs).
These programs must also address students' academic, social, and emotional needs, and they must address the disproportionate impact of COVID-19 on underrepresented student populations.



When you say "Learning Loss"—what exactly does that mean?
"Learning Loss" is a term used often in the stimulus legislation to describe the loss of knowledge and skills that school-age students have experienced as a direct result of the pandemic. This can be attributed to decreased student engagement with remote learning, loss of access to WiFi or other resources, decreased learning time because of altered schedules or school closures, and increased stress from food and housing security—just to name a few examples.
What are some trends you're seeing with how schools are using ESSER funds?
With all this talk about how much remote learning and the pandemic have affected many students, schools are realizing that their students need individualized, one-on-one learning and mentoring opportunities to accelerate filling learning gaps.
According to a new report by FutureEd, a nonpartisan think tank at Georgetown University's McCourt School of Public Policy, more than 40 percent of school districts and charter school organizations plan to fund tutoring and academic coaching using their federal funds.
As mentioned in this K–12 Dive article, it's important to note that the way in which we measure the success of tutoring is not only reflected in students' test data, but also their social-emotional status or their overall developmental outcome because of benefiting from mentors.
As reading and math intervention specialists, we at Voyager Sopris Learning® understand the importance of providing targeted support to students based on their individual needs. Having a reliable, research-based assessment tool in place to understand where each individual student stands academically is crucial to ensuring success for your classroom.
As a teacher, am I able to directly access any of this stimulus money for my own classroom?
In most cases, it's unlikely that you will be able to tap into these funds directly. The allocation of this money is usually determined by leadership teams at the district level. If you have specific concerns or needs for your classroom, we suggest you contact your principal to see how they can facilitate making your priorities known.
Do Voyager Sopris Learning's products fall under ESSER's allowable activities?
Yes! With a goal of ensuring every student facing a learning gap gets the right tool, implemented by the right educator, at the right time, Voyager Sopris Learning can help schools and districts navigate our solutions as you decide how to best use the federal ESSER and GEER funds. Check out our product infographic to learn more.

For additional answers to your ESSER questions or to request a sample or live demo, contact us here or call 800.547.6747.