Reading Intervention in Elementary Grades
Updated on
September 2, 2021
There is a big question mark hanging above educators' heads as students return to classrooms this fall: Where will elementary-grade students stand in reading proficiency after the disruptions of the last year?
While we don't yet know the extent of the COVID slide, there is little doubt most students will have lost some progress, with students who are most at risk prior to the pandemic likely falling farther behind.
As teachers face the prospect of more students struggling with reading, they will be looking for proven approaches to get them up to speed. The good news is that research shows almost all K–5 students who have difficulty learning to read can gain proficiency if they receive literacy intervention developed with evidence-based, research-validated teaching practices.
A Path Forward: Structured Literacy
Structured Literacy is such a practice. Based in the science of reading, Structured Literacy is an approach to reading instruction recommended by the International Dyslexia Association® (IDA) that has been shown to work for all students, especially those struggling with literacy. In fact, a substantial body of research demonstrates this approach is more effective than others for all types of readers.
Structured Literacy focuses on helping students learn how to decode words and supports learning the function and meaning of words. Structured Literacy instruction is guided by these principles:
Systematic and Cumulative: Instruction should follow a logical order so each step is based on previously learned concepts
Explicit: Instruction should cover all concepts and skills and should provide ongoing student-teacher interaction rather than expecting students to learn on their own
Personalized: Instruction should feature diagnostic teaching so the instruction is individualized and based on continuous assessment through informal observation and more formal measures
An evidence-based intervention like Structured Literacy is called for at this moment because so much is at stake and time is of the essence. ASCD reports that 70 percent of poor readers, 9 years and older, continue to have reading difficulties into adulthood if instructional needs are not addressed.
Structured Literacy in Action: Voyager Passport
Voyager Passport® follows the Structured Literacy approach recommended by the IDA. It also addresses all of the critical skill areas of effective reading instruction recommended by the National Reading Panel and provides comprehensive writing instruction in accordance with research about interventions for struggling students.
By giving struggling students 30 minutes of additional, explicit literacy instruction, the Voyager Passport curriculum provides a systematic, gradual progression of skill development in each of the five pillars of reading instruction.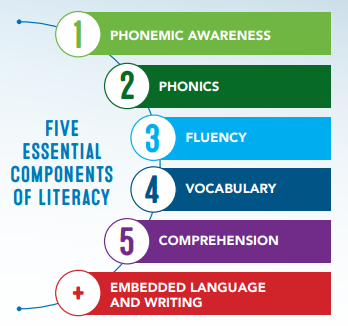 To further strengthen foundational reading skills, improve vocabulary acquisition, and increase fluency, Voyager Passport comes with Reading Rangers, an interactive online practice program. Reading Rangers uses motivating gamification in challenges, journeys, quests, puzzles, and more to create reading success for K–5 students.
With Voyager Passport, students get the support they need to become proficient readers, and teachers have everything they need to provide the supplemental learning to help students reach new levels of literacy success—whether they are teaching in person, remote, or hybrid.
ESSER Funding for Voyager Passport
This year will be unique in another respect: Educators will have the financial resources to secure needed interventions like Voyager Passport.
Congress authorized three rounds of funding for the Elementary and Secondary School Emergency Relief Fund (ESSER Fund) during the pandemic. The American Rescue Plan round of ESSER funds came with an additional requirement: At least 20% of district funds must be used to address learning loss through evidence-based interventions that support students' academic and social and emotional learning (SEL) needs.
As educators evaluate tools and resources that meet the standard to qualify for ARP ESSER funds, one unbiased source is the nonprofit Evidence for ESSA. Voyager Passport earns Evidence of ESSA's Tier One rating by providing Strong evidence of producing positive results on K–5 student outcomes.
Voyager Passport is proven and ready to enhance any core reading program. By strategically targeting priority reading skills, it is an ideal intervention to accelerate the performance of students reading below grade level as they recover progress from the COVID slide.


Learn More About Voyager Passport