Easy Ways to Encourage Summer Reading
by Dr. Amy Runge on April 19, 2018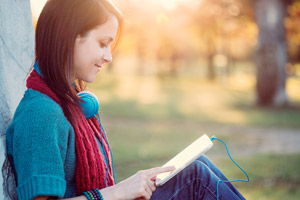 Amy Runge, Ed.D. is Director of Curriculum and Collegiate Services for An Achievable Dream/Newport News Public Schools, VA
Working with a K–12 comprehensive academic program for more than 14 years has given me the opportunity to interact with a variety of grade-level teachers who each year brainstormed, had meetings, and researched new and exciting ways to encourage summer reading. This is no easy feat. Student interests change, family dynamics change, and fiscal delegations change each year. Although these variables may not, at first glance, seem to be related to summer reading success, overcoming these challenges is our greatest indicator of summer reading motivation.
Challenging our students with interesting reading topics is a year-round dilemma. When our teachers and students were introduced to LANGUAGE!® Live, we saw amazing academic gains and increased interest levels for learning, as described in this case study. Students were engrossed in the topics LANGUAGE! Live introduced in the reading segments. So, where could we find equally engaging material for at-home summer practice? The answer was easy—we found LANGUAGE! Live had an online book list for students. We captured this list and provided students books they could identify with and matched their reading levels. This solution showed immediate results. Students returned to school happy to share their lists of completed books.
To reach some of our most challenging older readers, we found success with creating competitions for individual students and for students who wanted to compete as reading groups. We set goals where students had to read several books during summer and prepare a summary of the books' contents. The summary might be a character analysis (for older students) or a standardized writing assignment based on a particular setting or an event. Incentives such as movie tickets, dinner out, dinner with an administrator, or tickets to a sporting event, seemed to inspire many students to take the challenge. We found intrinsic values were first created by extrinsic motivators. Growth and motivation came with maturity and foresight for future success.
Another successful solution we found for creating summer readers was to provide the books for students before they left for break. The K–12 students were encouraged to attend a book fair (books were donated by private corporations) at the school and choose one or two interesting books. These books were free to our students. Due to financial disparities, many of our students had difficulties purchasing books or finding time to visit the library or store. We, instead, brought the books to them. We also offered an incentive to return the book at summer's end, gently used. This way others could enjoy it.
The success we found encouraging students to read at least one book during the summer has been a direct reflection of those educators who took time out of their personal schedules to follow up with students, challenge students to co-read a book or two, and to make reading fun.
LANGUAGE! Live is a comprehensive blended learning solution for struggling adolescents that inspires a new level of confidence and drive to help students become proficient readers.