Intensifying Literacy Instruction: COVID's Silver Lining
Updated on
September 14, 2021
Fragile Readers
During normal times, two groups of students have been at the heart of my literacy work. They are our fragile readers—fragile because they are young and just beginning to read, or fragile because they are older students who haven't read well for years. As we navigate through these COVID years, we continue to hear messages of hope for these students. Whether in person or in virtual settings, we know fragile readers can be motivated to move forward if they have well-trained teachers, programs, and time.
In this blog, you will find a four-step process for meeting both the literacy and social-emotional needs of fragile readers. With ESSER funding, we suddenly have the resources to help more students. In the United States today, 14% of adults (30 million people) read below basic (Baer, J., Kutner, M., and Sabatini, J., 2009).
People who read below basic may read well enough to read a Twitter-length message, but not well enough to read street signs or a doctor's summary of their health.
A PLAN
Step 1. A Quick Thermometer Check with Oral Reading Fluency
Like a health checkup, we can begin with a simple thermometer test using oral reading fluency (ORF) to identify students who don't employ foundational reading skills efficiently. Why ORF? ORF assessments are quick and easy to administer. Because comprehension is dependent on the ability to read with accuracy, speed, and proper expression, ORF measures provide a quick and reliable screener. White et al. (2021) examined how oral reading fluency is related to NAEP fourth grade reading achievement. As shown in the table below, there are significant and consistent decreases in accuracy and WCPM (words correct per minute) from each level of achievement on the NAEP—from Advanced to Proficient, Proficient to Basic, and then again with the Below Basic subgroups.
2018 Fourth Grade NAEP Reading Achievement and Related Accuracy and WCPM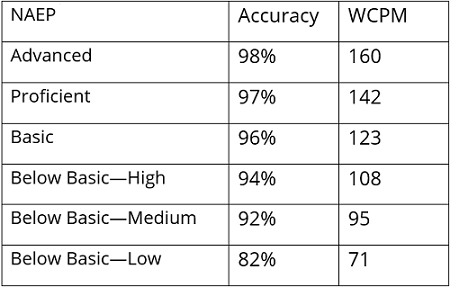 Simply put, ORF is consistently related to general reading achievement. Once students have been identified, additional testing can inform what instruction is needed to build or rebuild foundational skills.
Step 2. A Transformative Tool: Small-Group and One-on-One Tutoring
With today's resources, we can intensify our efforts by setting up one-on-one tutoring and/or small-group intervention during, before, or after school. A recent meta-analysis of tutoring—defined as one-on-one or small-group instruction—found tutoring to be "one of the most versatile and potentially transformative educational tools in use today" (Nickow, Oreopoulos, and Quan, 2020).
Step 3. Research-Based Programs
"Even the most competent teacher cannot be successful in teaching reading, especially to children who are at-risk or struggling with literacy, if provided with inadequate instructional contexts or inappropriate instructional materials and approaches." (Spear-Swerling, 2019)
In its seminal meta-analysis of reading research, The National Reading Panel (NRP) found that comprehension improved with at-risk and normally developing students when the following components were included:
Early teaching of phonemic awareness
Core instruction in systematic and explicit phonics
Implicit and explicit instruction in vocabulary
Fluency practice
Comprehension strategy instruction
In a survey by Education Week (2019), only 22% of teachers indicated that their philosophy of teaching early reading includes systematic and explicit phonics. While many districts are working to provide teachers with professional development about the science of reading, many young students will continue to need intensive instruction in their early years.
Due to several variables, many older students have missed the opportunity to build a strong foundation for reading. For older students, research indicates that "adolescence is not too late to intervene, and older students who participate in interventions can benefit" (Scammacca, et al. 2007).
Like the NRP findings (for younger students), the Center on Instruction outlines the following evidence-based recommendations for adolescents:
Word study
Fluency practice
Vocabulary instruction
Comprehension strategies
Strategies to enhance motivation
It's never too late.
Use of scientifically based programs is a prerequisite for success.
Step 4. Internal and External Progress Monitoring
Periodic norm-referenced testing ensures that the intervention is transferring to general reading. Two cautions:
If a student demonstrates significant improvements on external measures, the intervention is working. Continue until the skill sequence is completed.
If a student does not demonstrate significant improvements on external measures but is progressing on internal measures, stay the course. Generalization will occur when the student masters a sufficient base of foundational skills.
The use of internal progress monitoring ensures students are mastering the scope and sequence of essential skills provided by your intervention program. Internal progress monitoring should provide useful diagnostic information so teachers can tailor intervention as needed. In combination with external progress monitoring, outcomes are ensured.
The silver lining of COVID funding means we can screen early, set up one-on-one tutorials and small-group instruction. We can implement research-based interventions, monitor progress, and celebrate our successes.
We are rooting for you and your students.
Social-Emotional Health Goes Hand in Hand with Reading Well
"In the past few months, I went from 100 words per minute to 130 words per minute. I know it doesn't seem like much, but imagine a kid who can't spell very well and who can't read very well being able to spell better and read faster.
"It's the best feeling ever."
—Special Education Student, High School, New Mexico
References:
Baer, J., Kutner, M., & Sabatini, J. (2009). Basic reading skills and the literacy of America's least literate adults: Results from the 2003 National Assessment of Adult Literacy (NAAL) Supplemental Studies (NCES 2009-481). National Center for Education Statistics, Institute of Education Sciences, U.S. Department of Education.
National Institute of Child Health and Human Development. (2000). Report of the National Reading Panel. Teaching children to read: An evidence-based assessment of the scientific research literature on reading and its implications for reading instruction (NIH Publication NIH Publication No. 00–4769). U.S. Government Printing Office.
Scammacca, N., Roberts, G., Vaughn. S., Edmonds, M., Wexler,J., Reutebuch, C. K., & Torgesen, J. K. (2007). Interventions for adolescent struggling readers: A meta-analysis with implications for practice. RMC Research Corporation, Center on Instruction.
Schwartz, S., & Sparks, S. (October 2, 2019). Getting reading right: How do kids learn to read? Education Week. Retrieved from https://www.edweek.org/teaching-learning/how-do-kids-learn-to-read-what-the-science-says/2019/10
Spear-Swerling, L. (2019). Structured literacy: An introductory guide. International Dyslexia Association.
White, S., Sabatini, J., Park, B. J., Chen, J., Bernstein, J., & Li, M. (2021). Highlights of the 2018 NAEP Oral Reading Fluency Study (NCES 2021-026). U.S. Department of Education. Institute of Education Sciences, National Center for Education Statistics. Retrieved from https://nces.ed.gov/pubsearch/pubsinfo.asp?pubid=2021026