Creating Effective Rubrics: Examples and Best Practices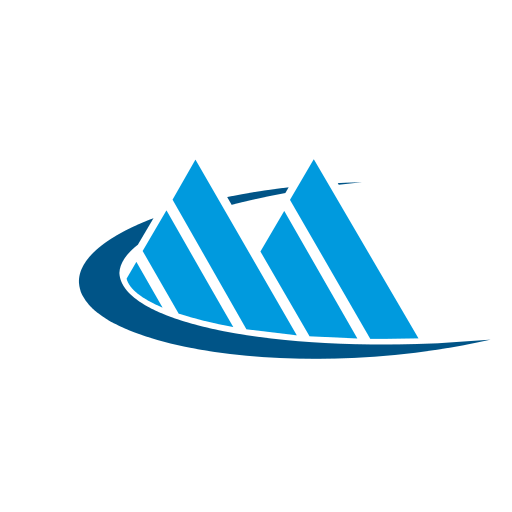 Written by
Voyager Sopris Learning
Updated on
March 21, 2023
Rubrics are an essential component of assessing student learning effectively. A rubric is a scoring guide that clearly defines the expectations for student performance on a particular task or assignment. Teachers can use rubrics to both evaluate a student's performance level and to provide feedback to that student. Because they provide a standardized way to assess learning, rubrics help to ensure grading is fair and consistent across all students.
It is important that rubrics are a clear, consistent evaluation of a student's work. This can sometimes be hard to achieve because rubrics have the potential to become cumbersome and confusing. The best rubrics will typically include specific criteria relevant to the task or assignment at hand, as well as a set of descriptors that outline the different levels of performance that learners may achieve.
There are many different types and uses of rubrics, as well as many benefits of using rubrics. Therefore, learning how to create effective rubrics and the best practices for using rubrics is important for all educators to know. Some may think rubrics are only used in upper-level grades or only for essay assignments, but rubrics can be a beneficial tool for many different subjects and grade levels. All teachable content has learning goals and outcomes, and therefore all content can benefit from the use of good-quality rubrics.
Types of Rubrics
There are three main types of rubrics that are typically used in the education realm: analytic, holistic, and developmental. These three rubrics all pair differently with certain tasks or assignments, depending on the learning goals and desired outcomes for the assignment. While each have their advantages and disadvantages, they all have an appropriate place in a teacher's assessment toolbox.
Analytic Rubric
Analytic rubrics focus on breaking down the work into specific components or criteria and then evaluating each of those components separately. Each individual component is usually scored on a separate scale, allowing for more detailed feedback on the strengths and weaknesses of the performance. Analytic rubrics are useful when there is a specific focus on particular skills or knowledge students are expected to demonstrate. Analytic rubrics are very specific and detailed, and for that reason, they can sometimes be seen as more complicated or complex to use.
Analytic rubrics are sometimes viewed as the most reliable assessment rubric because they tend to be more precise assessments and offer more specific and detailed feedback to students. Because of this, these rubrics are often better able to align with learning objects, which can promote deeper learning. Teachers who are using more targeted instruction will benefit from using a more targeted assessment.
Below, Jennifer Gonzalez of Cult of Pedagogy offers a playful example of rubrics assessing breakfast in bed: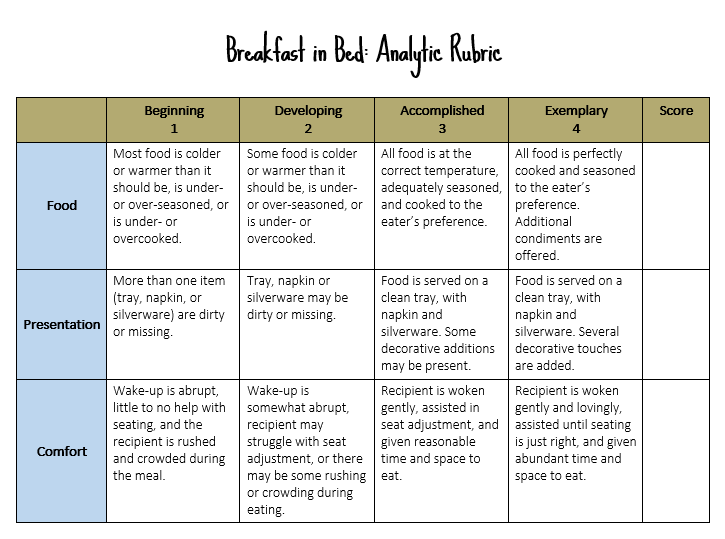 Holistic Rubric
Holistic rubrics provide a broader overall assessment of the quality of student work. They typically use a single scale to evaluate the work, ranging simply from one to five or from excellent to poor. Holistic rubrics are useful when the focus is on the overall quality of the work rather than on smaller, more specific components of the work.
Holistic rubrics can be used at any point in any subject when there is a task or assignment being assessed as a whole. For example, art classes often use a holistic grading rubric to assess broad categories such as creativity or composition. Whereas an English class may use a more analytical rubric for writing, a history class may use a holistic rubric when grading an essay for the overall success of argumentation, evidence, and organization. Holistic rubrics are often used with projects in many classes to evaluate the quality of the project on an overall scale from weak to exemplary.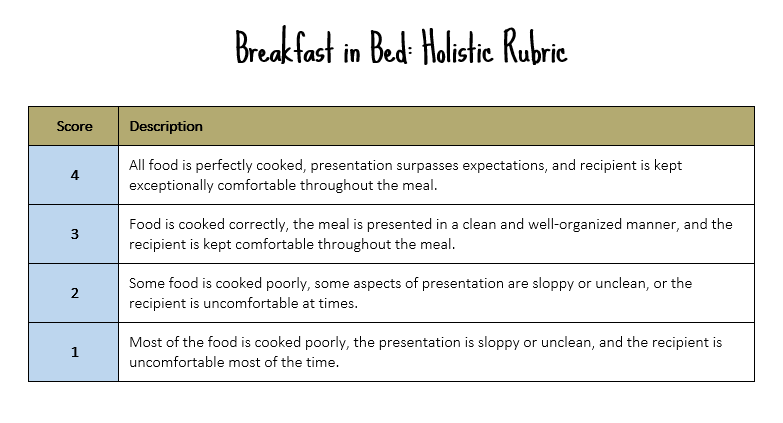 Developmental Rubric
Finally, developmental rubrics are used to assess a student's progress or development over time. They are typically used in subjects like writing or language development, where progress is more gradual. Developmental rubrics are great for courses or assessments that require multiple assessments over a longer period of time. Within a developmental rubric, there are multiple levels of performance that show progress made from one level to the next over time.
Because developmental rubrics are focused on growth and development, they are often best used in courses to judge progress that has been made over a length of the course. For example, English classes may assess someone's writing growth with a developmental rubric that ranges from weak to exemplary. Math classes may assess progress on categories such as problem-solving or mathematical reasoning with a rubric including emerging, developing, and proficient levels. Likewise, art classes may track progressions of creativity and technique with descriptors like beginner, intermediate, or advanced. As a student's knowledge and skills develop over time, teachers will see a progression in learning and mastery of those concepts.
How to Design a Rubric
While each type of rubric may have its own step in how to design it, the overall process of designing a rubric should follow a standard pattern of steps. Writing a strong rubric takes time and attention to detail, but the outcome produces a more effective rubric that will offer more benefits to students and the teacher.
Plan your purpose and pick a rubric style. First, teachers must decide what they want to teach, what they want to assess, and then how they are going to assess it. Teachers must think all the way to the end even at the very beginning. This may determine what type of rubric will be designed.

Align the rubric with the task or assignment. Once a certain rubric has been chosen, teachers must identify the learning objectives of the assessment and determine the skills and knowledge the students need to demonstrate. If a teacher does not properly align the assessment with the assignment, then they are seemingly setting students up for failure.

Write clear and concise criteria and levels of performance. Long and wordy does not always mean detailed or superior. Sometimes the lengthy and complex rubrics may seem detailed, but instead overwhelm or confuse students. Teachers must develop the criteria and descriptors for each criterion, but doing so in a clear and concise way will help students better understand what is expected of them.

Provide specific and actionable feedback to students. Remember that rubrics and assessments are ultimately meant to be used as a tool for supporting student learning and growth. Therefore, rubrics should be used as a stepping stone, not an end point. Students should be able to do something with the feedback that has been presented to them on a rubric.

Reflect on what worked and be willing to revise. The first rubric designed for an assessment may not always be the final rubric used. Sometimes rubrics need edits or changes along the way, and it is better for the teacher to accept responsibility for those adjustments rather than risk inaccurately assessing students based on a poorly constructed rubric.
Online resources for rubrics are very common and range from simple rubric examples, to common core-aligned rubrics, to college university recommended rubrics. For example, NC State University offers best rubric practices and examples, including this example of a holistic rubric for a final paper:

Articulating thoughts through written communication—final paper
Above Average: The audience is able to easily identify the focus of the work and is engaged by its clear focus and relevant details. Information is presented logically and naturally. There are no more than two mechanical errors or misspelled words to distract the reader.

Sufficient: The audience is easily able to identify the focus of the student work, which is supported by relevant ideas and supporting details. Information is presented in a logical manner that is easily followed. There is minimal interruption to the work due to misspellings and/or mechanical errors.

Developing: The audience can identify the central purpose of the student work, and supporting ideas are present and clear. The information is presented in an orderly fashion that can be followed with little difficulty. There are some misspellings or mechanical errors, but they do not distract from the work.

Needs Improvement: The audience cannot clearly or easily identify the central ideas or purpose of the student work. Information is presented in a disorganized fashion, causing the audience to have difficulty following the author's ideas. There are many misspellings and/or mechanical errors that negatively affect the audience's ability to read the work.
Within the last few years, the College Board switched its AP English Language and Composition rubric from a holistic grading scale of zero to nine to using an analytic rubric, which evaluates student performance based on three main scoring categories.
Using Rubrics for Assessment
To use rubrics to facilitate fair, efficient, and effective assessment of student work, there are several things to consider when implementing the rubrics. These include the purpose of the rubric, the placement within the lesson plan, and the people using the rubric.
First, one must consider what the intended purpose of the rubric is within the assessment. For example, rubrics can be used in different types of assessments, such as formative or summative. Both types of assessments are valuable for different reasons, and therefore rubrics should be used in both scenarios.
Another thing to consider when using rubrics is the placement of the rubric within the lesson plan. Providing the rubric at the beginning of a task or assessment can allow students to clearly see the requirements and expectations. Using a rubric in the middle of an assignment can provide more specific and actionable feedback for students before completing a project. Then, of course, using the rubric at the end of a lesson plan is where final and more formal assessment and reflection can take place.
Finally, teachers are not the only ones who can fill out and "assess" using a rubric. Allowing students to use rubrics for self-assessment and peer assessment teaches them vital skills of how to self-evaluate their work as well as how to offer constructive criticism and compliments to others.
It is important that once a rubric has been used for assessment, the data generated be evaluated, processed, and used for future assignments. Because rubrics allow teachers to assess with fairness and objectivity, the results of rubrics offer teachers and students valuable feedback for teaching and learning.
Best Practices for Creating Effective Rubrics
Whether you are providing detailed feedback to a student on their essay, observing that a student needs improvement on a certain math skill, or assessing the overall quality of someone's artwork, rubrics used effectively lead to less teacher stress and more student success. Creating clear, reliable, and valid rubrics might seem like a massive undertaking, but with a few simple steps and a few key strategies, rubrics can revolutionize a classroom.
Use clear and concise language. Students often struggle with heavy academic language, so providing clear instructions and understandable language can help students go into a task or assignment knowing exactly what is expected of them. This includes writing clear and concise criteria and levels of performance.

Know when to use what. Use different types of rubrics for different tasks or assignments. A teacher who uses a variety of assessments is a teacher who understands different students learn in different ways. Rubrics are not "one size fits all," so know when to use different resources. The rubric must align with the task or assignment to be effective for both teachers and students.

Provide actionable feedback. A painful moment for a teacher is when a student looks at the number or letter at the top of a grade sheet, ignores the heartfelt feedback written on the page, and immediately tosses it into the trash can. Teachers can avoid this scenario by providing specific action steps for students to take once they have received their feedback.
Some of the common misconceptions when it comes to creating and using effective rubrics are that 1) any rubric will work for anything and that 2) rubrics are too hard to make. These two misconceptions lead people to the common mistake of taking to the Internet and downloading a rubric that looks like a good fit.
It is important to avoid these when creating rubrics because the reality is that not all rubrics will work for all assignments, but it is also not impossible to quickly and effectively create a rubric that is perfect for your specific needs. If using a rubric from another source, you must ensure the reliability and validity of the rubric. One might be better off creating a simple holistic rubric than using a detailed analytic rubric that needs a lot of checking or editing to fit your assignment.
Conclusion: The Importance of Rubrics in Education
Rubrics are an important assessment tool for evaluating student learning and provide a consistent, fair, and clear way to assess student work. While there are a number of different rubric resources available online, rubrics are also fairly easy for educators to create and personalize to their specific needs. Creating rubrics is an ongoing process, which means it is important to continually review and revise rubrics to ensure they are still meeting the needs of the students. Just as students need to make adjustments in their learning, teachers may also need to make adjustments from time to time in their assessments.