Who's Your Literacy Champion?
by Voyager Sopris Learning on September 2, 2020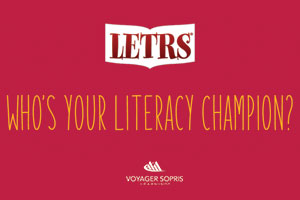 Nominate a true champion in the Voyager Sopris Learning LETRS Literacy Champion contest
Literacy is the key to a meaningful, successful life, but it doesn't always come easily. Whether you learned to read and embraced literacy at a young age or overcame literacy challenges to reach new levels of academic and personal success later in life, you likely have someone to thank for being your champion—someone who inspired you, helped you overcome hurdles and not lose hope … someone who saw your potential.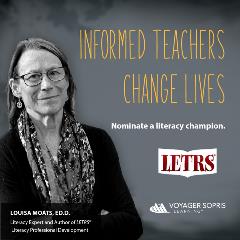 We recently kicked off a contest on our social media channels and invite you to nominate a literacy champion. Our LETRS® Literacy Champion contest asks: "What makes a literacy champion and who is your literacy champion?" The contest also shares the insights of some true literacy champions, like Dr. Louisa Moats, educator Dr. Ebony Lee, Dr. Carol Tolman, Dr. Lucy Hart Paulson, and others. We're looking for your nominations to add to our hall of fame.
Our dedicated web page, https://www.voyagersopris.com/sites/letrs-champions, includes a nomination form so you can tell us about a literacy champion in your life. By making your nomination, you become eligible to win a prize such as a LETRS Champion T-shirt, light-up flashing glasses, a LETRS Champion notebook, and more! Each month, one special winner will receive a yearlong pass to our Literacy Symposium library, which includes online professional development from today's experts in education.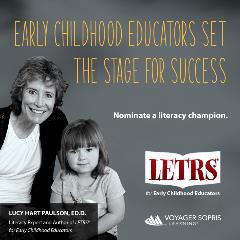 We are looking for everyday literacy champions. Do you have a coworker who defied the literacy odds? A mentor who brought the written word to life for you? An educator who helped make remote learning just a little easier for your school or district? Go to the link below to nominate your literacy champion today. You do not need to be a LETRS user to win.
Nominate a Literacy Champion