Introducing the Dr. Louisa Moats Award
by Tammy Robacker on November 11, 2020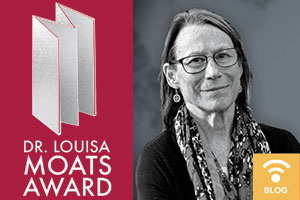 Applications are now being accepted for the Dr. Louisa Moats Award for Excellence Implementing the Science of Reading, sponsored by Voyager Sopris Learning®. This prestigious award recognizes LETRS® Champion districts or schools for their excellence using the science of reading and LETRS professional learning.
The award is named in honor of renowned author and literacy expert Dr. Louisa Moats for her dedication to literacy education and her lifelong work inspiring educators and students with reading success. To apply, visit voyagersopris.com/sites/louisa-moats-award. The application deadline is February 15, 2021.
Reading skills are proven to be critical to student success in school and the future, and Dr. Moats is a longtime champion of science of reading-based instruction and the hard work literacy educators do to help their students learn to read. For her, the award offers a special opportunity to recognize educators improving literacy. "I want the chance to discover and call attention to those wonderful educators out there who have taken information about reading science and made it visible in school programs, policies, practices, and outcomes. As those schools come to light, I'll be able to encourage and celebrate them in the way they deserve," Moats said.
Applicants must submit video or written responses to describe how they implemented the science of reading; how they converted research to practice; how they enhanced teacher effectiveness; and how they observed LETRS professional learning transform literacy instruction. Award recipients will be announced at a virtual event on March 31, 2021.
The school or district that earns the grand prize will receive $5,000, a brushed steel M trophy inscribed with the recipient's name and a certificate of award signed by Dr. Moats, as well as 30 LETRS Champion T-shirts and 30 LETRS Champion journals. Two runners-up will be announced as well.
Dr. Moats is the lead author of LETRS (Language Essentials for Teachers of Reading and Spelling), the landmark evidence-based professional learning that prepares educators for the challenging work of teaching literacy. For Moats, the winning district or school will have "strong leaders who have 'owned' the challenge and who have become committed to the idea that almost all kids can learn to read. It must also have a core group of teachers who have dug into substantive learning about reading science, who have been willing to change and improve, and who are working hard to refine their teaching skills."
We encourage you to learn more and complete the application today: voyagersopris.com/sites/louisa-moats-award
Tammy Robacker is a Regional Marketing Specialist with Voyager Sopris Learning.