Hard Words: A Webinar to Discuss What Teachers Need to Know About Teaching Reading . . . and How to Acquire That Knowledge
by Dr. Louisa Moats on March 20, 2019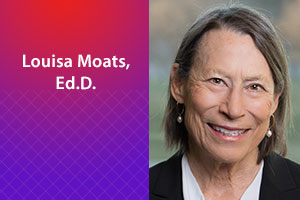 The topic of teacher knowledge and expertise necessary for reading instruction is, once again, receiving a lot of media attention. After Emily Hanford's widely disseminated report for American Public Media (Hard Words) stirred debate last fall, the topic continues to be discussed in state departments, districts, and social media. The questions abound: What is the reason so many students do not learn to read? How can we make sure teachers are adequately prepared to apply the principles and practices most supported by scientific research about learning to read? Where are the gaps between common practices and those most in line with evidence of effectiveness? Why do these gaps exist? What could be done better to educate and support teachers in carrying out a very challenging job?
I began teaching teachers shortly after completion of my doctorate in reading and language more than 30 years ago. I began to realize that even well-intentioned, self-motivated, dedicated teachers often were lacking the background knowledge that would enable them to successfully teach reading. I subsequently wrote a series of papers about the problem, beginning with several published by American Educator. I argued that without some background in the structure of language and an understanding of the process of learning to read, teachers were not going to be able to use programs effectively, even if those programs were well designed. Debates about which assessments to use, how to interpret them, what to expect of students, and what programs are best would go unresolved unless the field could embrace a common knowledge base grounded in fact.
In my webinar, Hard Words: What Teachers Don't Know About Teaching Reading and What to Do About It, I review some of the core concepts emanating from scientific research that are still poorly understood in general. One of the most important—and counterintuitive—is that reading depends on linguistic skills, much more than visual skills. The implications of this fundamental reality are enormous. Furthermore, when teachers are empowered with knowledge of language and an understanding of reading processes, they are much more likely to learn and use the teaching practices that align with research evidence.

Watch the webinar
Louisa Moats, Ed.D., has been a teacher, psychologist, researcher, graduate school faculty member, and author of many influential scientific journal articles, books, and policy papers on the topics of reading, spelling, language, and teacher preparation. She was co-principal investigator of an NICHD Early Interventions Project in Washington, DC, public schools and principal investigator for two small business innovation research (SBIR) grants from the National Institutes of Health. In addition, she led the committee that developed the International Dyslexia Association's Knowledge and Practice Standards for Teachers of Reading. Dr. Moats developed her current approach to teacher training, called LETRS®, from her experiences as an instructor at the Harvard Graduate School of Education, St. Michael's College in Vermont, the Dartmouth Medical School Department of Psychiatry, and the University of Texas, Houston.
Dr. Moats' awards include the prestigious Samuel Torrey Orton award from the International Dyslexia Association for outstanding contributions to the field; the Eminent Researcher Award from Learning Disabilities Australia; and the Benita A. Blachman Award for Advancing Evidence into Practice award from the Reading League.