Ways to Celebrate 'Music in Our Schools Month'
by AshaLee Ortiz on March 9, 2016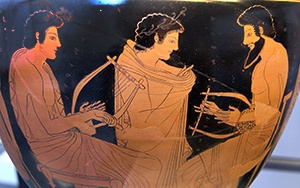 March is Music in Our Schools Month. Since ancient Greece, music has been an important area of study. The Every Child Achieves Act of 2015 lists music as a core academic subject. So allow me to step on my music advocacy soapbox (we call them conducting podiums) and illuminate both why and how you can support music in our schools.
Advocacy for music in public education is important because it seems that in today's society, where quality education is summarily evaluated by data from test scores, arts education is constantly threatened.
Budgets are being cut, and the funding needed to purchase music or instruments is acquired through fundraisers, or often straight from the teacher's pocket. Other times, districts make the decision to cut performing ensembles or music completely from the curriculum.
Enter initiatives like Music in Our Schools Month.
Making Music in Your Classroom
How can we integrate music into traditional instruction? Here are some ways to incorporate music into your lesson plans or as a thematic unit in March:
Student Projects
Science and technology teachers can structure units on the science of sound at this time; have students use audio recording software like

Audacity®

to analyze sound waves from various sources
Have students create their own instruments (great for grades K–8)
Instead of an oral report or poster project, allow students to parody a song, write a rap, or create a multimedia project with a soundtrack
Students can choose performers or composers for a biography assignment
Art teachers can correlate music projects with musical contemporaries (Monet's impressionism with Debussy's fluid style, for example)
PE teachers … 3 words … "Watch Me Whip" (or whatever the newest dance craze happens to be):
Lesson Ideas
Poetry/music lyric units are popular in Language Arts. Do it in March!
Consider

arts integration

to help teach subjects like math, reading, and science
Civics students can compare social issues with contemporary music and find topics or trends to address in class
History and Social Studies teachers can play music from time periods that are the current focus in class (YouTube it. Super easy hook or closure to any lesson!)
Analyzing the lyrics to protest/war songs has always been a great way to engage middle/high school students
Use music to learn the 50 states, periodic table of elements, or other information students find difficult to retain
If you are a music teacher like me, may I encourage school music performances, an all-school sing (either at an assembly or during morning announcements), hosting a music-focused assembly, or checking out the free (I said FREE) repertoire for the Concert for Music in our Schools Month. This year's nationwide simulcast begins on Thursday, March 16, at 1 p.m. EST. Imagine, students singing the same music at the same time around the country!
Whatever you do, try to get your kids to perform for your school or community at this time. I know many of us are preparing for festival performances or spring break trips, but make sure you showcase your students' hard work in your community as well!
Music. Is. Awesome. It just is.
In Venezuela, music education had a transformative effect on society itself. Thanks to a program called El Sistema, children were brought off of the streets, handed an instrument, and given a purpose. El Sistema's founder, Abreu, stated that arts education should be "no longer a monopoly of elites" but rather "a right for all the people." The Simon Bolivar Orchestra, comprised entirely of high school-age students, is internationally acclaimed.
Music acts as a window into the past of eras with different struggles, values, and beliefs captured with the juxtaposition of lyrics and organized sound. The science of music, with sympathetic sound waves, is mathematical and symmetrical and beautiful (remember "Soundtrack" from the first Fantasia?). It can articulate movements in society to promote civil rights for all. Music unites cultures by bringing people together with a truly common language­—the language of music. It can pump you up before the big game, or it can "soothe a savage beast."
Music therapies have been used everywhere from special education to post-traumatic rehabilitation. Not to mention, there are numerous studies of musicians' brains that show stronger connections between hemispheres as well as a more fully developed corpus callosum, so if we are truly in the business of educating kids—making them smarter, as it were—wouldn't a musical education just make sense?
Regardless of how you choose to integrate it, I challenge you to make music a part of your students' experience this month. Music is something that can be very personal, and yet it also functions as a way to unite a community. It can change a mood or set a tone, and in a world that has become increasingly harsh and volatile, may I be bold enough to suggest we need music in our schools—now more than ever.
For information on how you can get involved, visit the National Association for Music Education.
Watch this video on the history of jazz with your students. It is from LANGUAGE! Live, an award-winning comprehensive ELA curriculum for struggling adolescent readers and writers, created by Dr. Louisa Moats.
Do you have ideas for integrating music into the curriculum? We'd love to hear from you in the comments field below.