Equipping Teachers to Address Today's Reading Challenges with Professional Development: The LETRS Difference
by Dr. Louisa Moats on March 1, 2018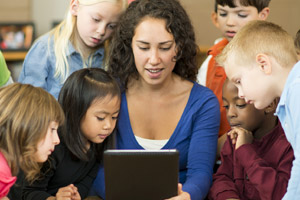 Language Essentials for Teachers of Reading and Spelling (LETRS®) has just been reborn with new content, organization, and online elements. Although LETRS is officially 16 years old, its origins go back 35 years. I'd like to share where LETRS came from, what makes it a unique professional development experience, and why it endures as a widely used and respected approach to teaching teachers.
Let's start with an uncomfortable truth: very few of us in education learned what we should know about teaching reading, spelling, or language when we were licensed or earned our degrees. As teachers, we typically attended workshops and professional development days frustrated by the lack of rigor or relevance to our students' learning challenges. We wanted to reach all students but did not know how. I, as a young teacher, knew I wasn't well prepared to teach my students who struggled with reading and language. Only after a decade of experience—and through my doctoral training—did I begin to understand what was involved in teaching effectively, especially when students were affected by dyslexia or just weren't figuring out how print works. Thankfully, my major professors taught me about language development, language structure, and the psychology of learning to talk, read, spell, and write—information I should have had from the outset of teacher training.
Why did this information matter so much? I finally had the conceptual tools and the observational skills to put myself in the shoes of students who were learning about print, regardless of their talent for deciphering written symbols. I could interpret students' errors and give them corrective feedback that made sense. I could explain concepts clearly, directly, and in a logical order. I could recognize which teaching materials or programs were likely to work, for whom, and why, and I could see when programs were poorly designed because they contradicted important principles derived from good science. I also could contribute as a researcher myself and build relationships within the far-reaching research program funded by the National Institute of Child Health and Human Development. (NICHD).
How LETRS Evolved
While my professional opportunities for clinical work, research, and consulting expanded after my doctoral training, I continued to be frustrated by the following: Why shouldn't every teacher licensed to teach reading learn the essential information that I was exposed to in graduate school? Why wasn't this same training offered or required as a matter of course, for all professionals who teach reading?
In the 1980s, I began to design and teach courses for teachers that emphasized the structure of language and its relevance for teaching reading, spelling, writing, and oral language comprehension. The course of study that is now LETRS began as summer workshops and semester-long graduate courses. Between 1997 and 2001, language study was the professional development part of a large NICHD-funded research project in Washington, DC, public schools. The data we obtained were clear: high-risk students learned to read when teachers knew what to teach and how to teach it, when they received classroom coaching, and when they had appropriate instructional materials.
Comprehensive, language-based reading instruction (also defined as "Structured Literacy" by the International Dyslexia Association—IDA) has several critical components. They include explicit teaching of the speech sounds (phonemes) in spoken language and the way the English spelling system represents those sounds. They also include instruction in print patterns that represent syllables and morphemes. Further, a comprehensive approach enables growth in language comprehension through explicit teaching of word, sentence, and text meanings. The skilled educator should know how best to teach this menu of skills, how to weave together those elements, how to tell if a student is having difficulty with one or more of the language or literacy components, and how to remediate the weaknesses in a timely, individualized manner.
Why Use LETRS?
The substance, depth, and comprehensiveness of
LETRS
distinguish it from other trainings or workshops. We ask teachers to study, learn, and apply information solidly grounded in scientific research. This takes time;
LETRS
content and its application are best learned over two years. Teacher competency results from the mastery and integration of knowledge with practice, acquired over an extended period.

LETRS is also unique in its respect for, and reference to, theoretical models of language and literacy acquisition that are supported by scientific consensus. Key ideas are identified, explored with online tasks, demonstrated by video, and role-played in face-to-face sessions. Because understanding of speech sounds is so fundamental to literacy, we require teachers to refine their own phonemic awareness. Moreover, we study the organizational principles and specific correspondences (phonics) of English orthography so that a teacher can stand up in front of class and, with confidence, explain why any English word is spelled the way it is. Subsequently, with word-recognition instruction under our belts, we move on to vocabulary, comprehension, and reading fluently for meaning, enabling students to dig deep into good literature.
Finally, we have data to show that teachers do learn the content well, and within a year, can see significant gains in their students. There is nothing more exciting to me than empowering others with the insights that took me too long to acquire. LETRS works.
No other professional development is as comprehensive or successful in addressing the five essential components of effective reading instruction, plus writing, with a focus on translating research to classroom application.